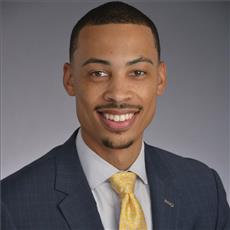 Donte Lloyd
Financial Planner
CFP®
Biography
The opportunity to make a difference is what gets Donte out of bed each morning. An advocate for his clients, he works tirelessly to ensure they've got the proper strategy in place to reach their goals and prepare for the unexpected.
Originally an accounting major, Donte discovered that his passions aligned more strongly with a career in financial services. He wanted to work directly with clients, educating and empowering them to make informed decisions about their finances. Donte shifted gears, and his major, and took a position in banking after graduation. A few years later he would take the next step in advancing his practice by leaving the bank, obtaining his FINRA 6 & 63 registrations and earning the CERTIFIED FINANCIAL PLANNER™ (CFP®) certification.
There are over 100 certifications available to financial professionals, but the CFP® stood out to Donte. These advisors meet rigorous education and experience requirements and are held to high ethical and professional standards in the industry. For Donte, the certification process was a game-changer for his practice and helped him create a new level of confidence when designing strategies for his clients.
Donte graduated from the University of Delaware with a degree in Organizational & Community Leadership, with a focus on Finance and a minor in Black American Studies. He was an active member of Kappa Alpha Psi Fraternity, Inc. and currently serves as Treasurer for the Black Alumni Organization at the University of Delaware. He is an avid basketball player and loves to travel.
Focus Areas
Insurance Strategies
Business Owners
Retirement Income Planning
Retirement Strategies
College Funding Strategies
Investment Strategies (Reg. Reps Only)
Student Loan Refinancing
Languages
Coverpath - Get a quote for term life insurance
Fortuna - A digital investment platform & a dedicated financial advisor
Commonbond - Get a preferred interest rate for student loan refinancing